The Trinity Alpha, made by the prolific Shenzhen manufacturer, SMOK, has done it once again. Feast your eyes on their brand new pod mod, which comes with more features than you might expect from something so tiny. Without a doubt, the SMOK Trinity Alpha has standout features that set it apart from other similar products such as their Hard, Normal, Soft firing function, which controls the wattage from 6w and up to 30w — similar pod mods don't have this feature.
This tiny device has a whopping 1000mah battery that might just last all day — depending on your particular vape habits — and it has a nifty LED indicator towards the bottom of the mod. The fill port on this pod mod is super easy; just slide the cap back and pour your favorite VapeWIld e-juice flavor afterward. With two airflow slots — one on the top of the pod and one on the side — the Trinity Alpha kit has superior air intake relative to similar devices. Setting itself apart from the pack, the SMOK Trinity Alpha doesn't use disposable pods but instead uses NORD coils. And rest assured, the drip tip on the Trinity Alpha is a 510, so you can use all your favorites to customize your mod even more.
With resin panels on both sides and a polished chrome-like sheen on the fill-cap and atomizer, this pod is an eye-pleaser. The zinc alloy construction of the pod mod gives it a distinct weight, which indicates its durability. Even with a minimal design, SMOK still managed to include some pleasing user experience touches like the pod-removal switch, responsive buttons, and colorful LED's.
All in all, the Trinity Alpha is the leader of this wolf pack, but the pack always accepts new members. Hunt down this pod mod and howl at the moon!
Specifications
Dimensions:

Height: 91mm
Width: 38mm
Depth: 16mm
Weight: 90g

Wattage range: 6-30w
Resistance Range: 0.5ohm-3.0ohm
Battery Capacity: 1000mah
Tank Capacity: 2.8ml
Material: Zinc Alloy
Features
3 Firing Modes: Hard, Normal, Soft
510 Drip Tip
Two Airflow Slots Located on Pod
Battery Indicator:

Green:70% and Above
Orange: 30-70%
Red: 30% and Below

Safety Protections:

Pod Detection
Short Circuit Protection
8-Second Cut-off
Low Voltage Protection

Resin Panels on Both Sides
Pod-Removal Switch
Fast Charge
Fire Button
Battery Indicator
Mode Button
Mode Indicator
Micro USB Port
What's In The Box
1x Trinity Alpha Battery (Mod)
1x Trinity Alpha Pod 2.8ml
1x Nord Mesh 0.6ohm (25w Max)
1x Nord Mesh MTL 0.8 coil (16w Max)
1x Lanyard
1x USB Cable
1x User Manual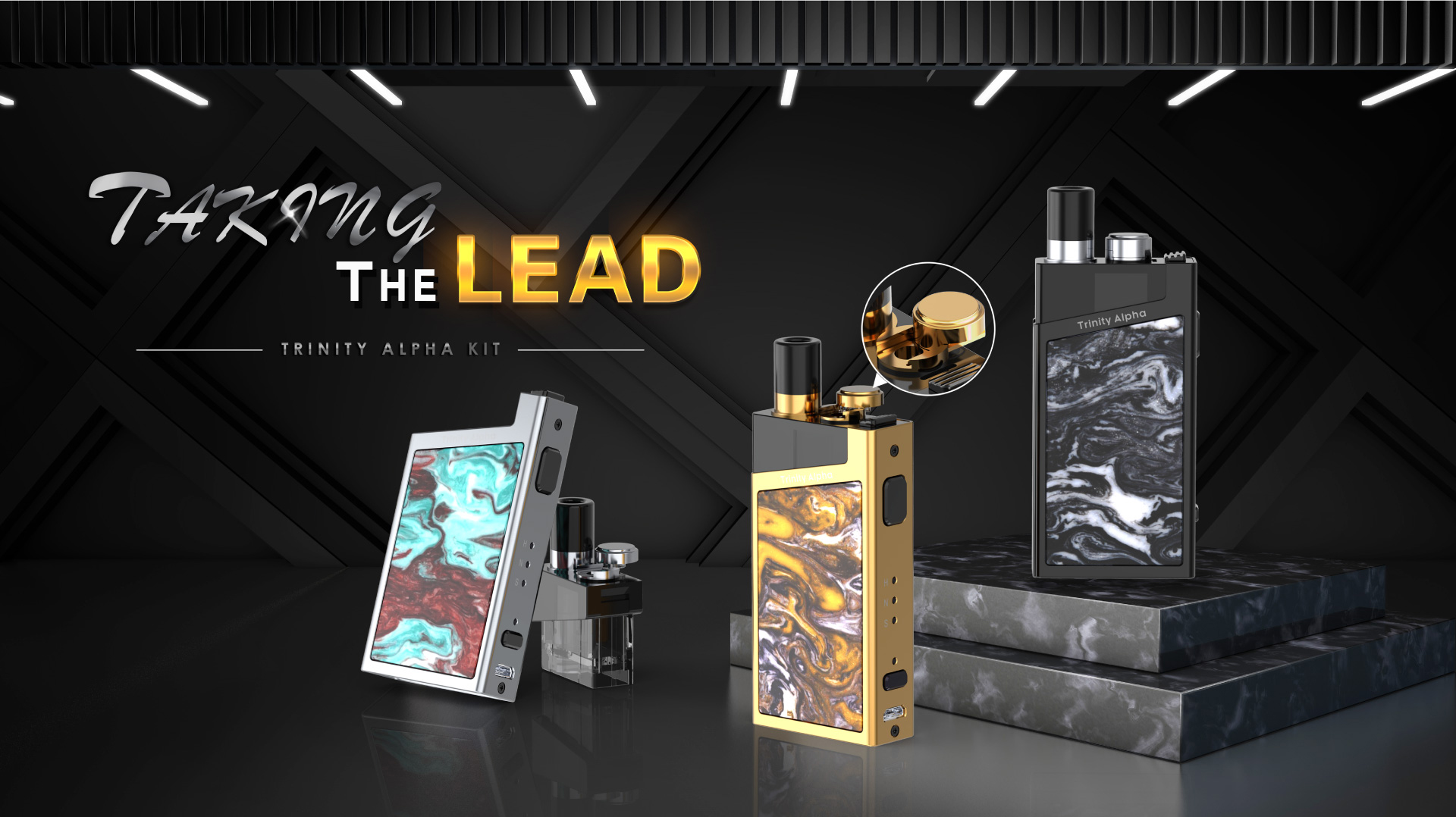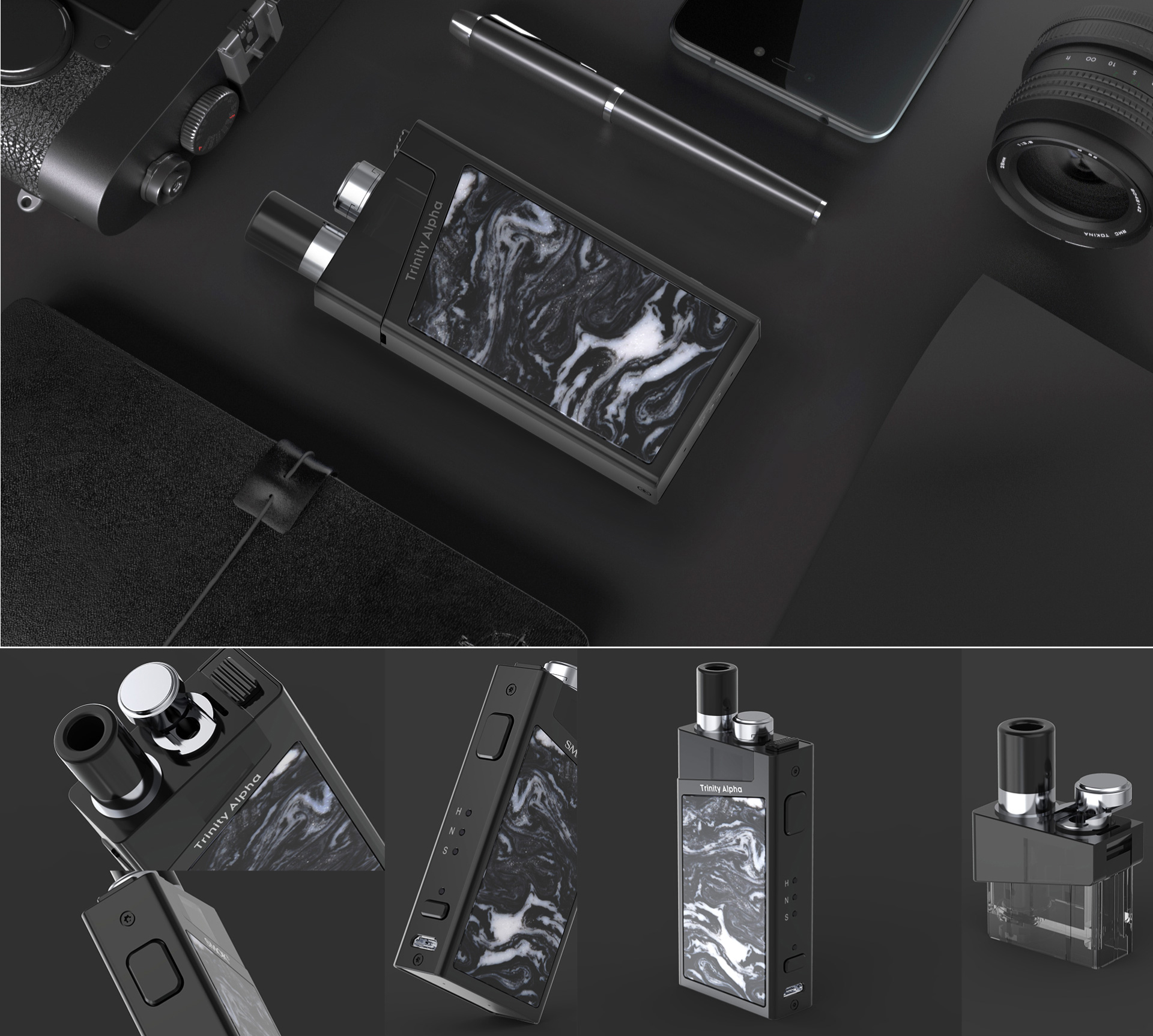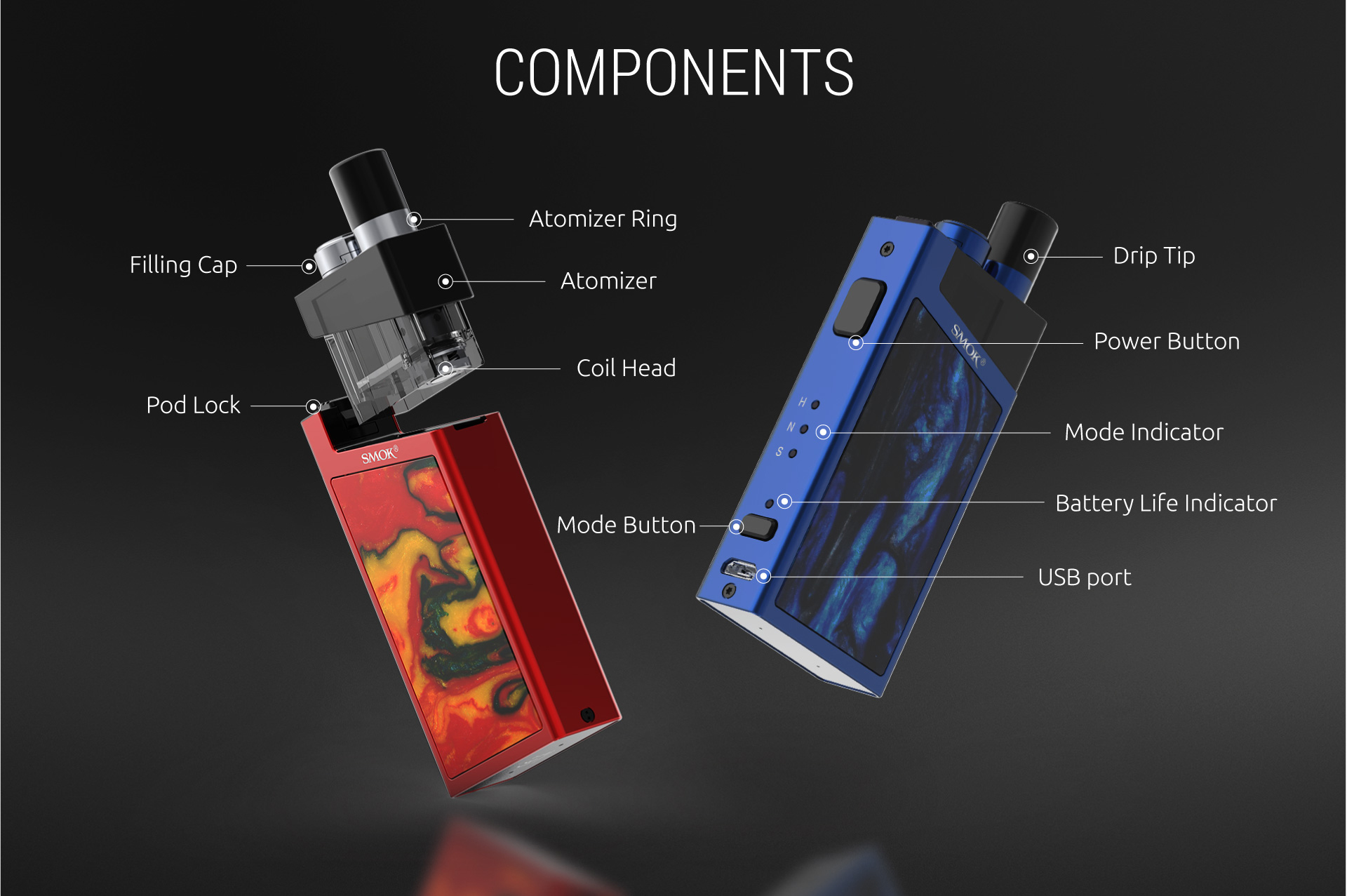 SPECIALLY DESIGNED FILLING CAP
Trinity Alpha uses top refill system with a stainless steel filling cap for convenient e-liquid refilling and leakproof purpose as well.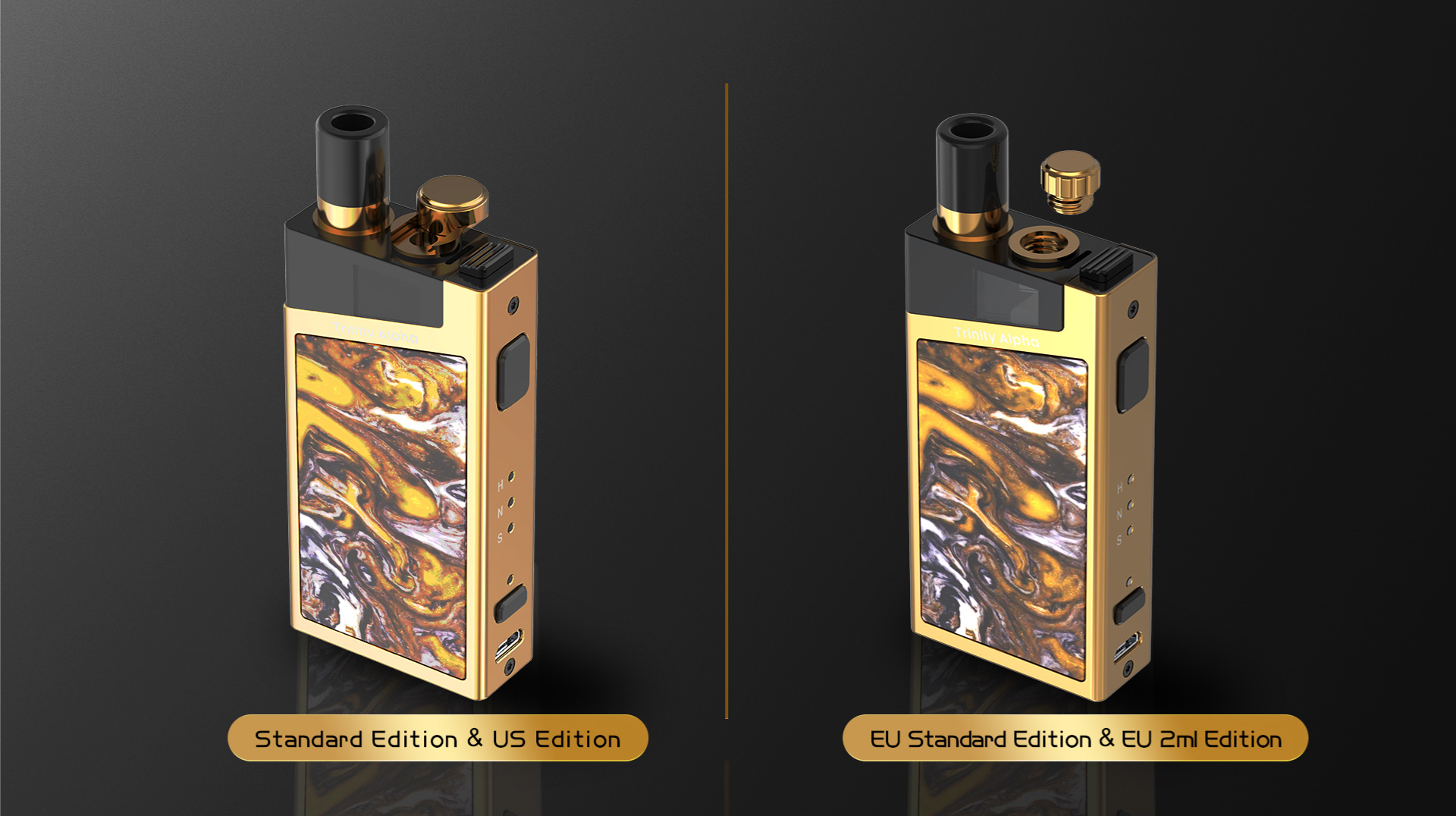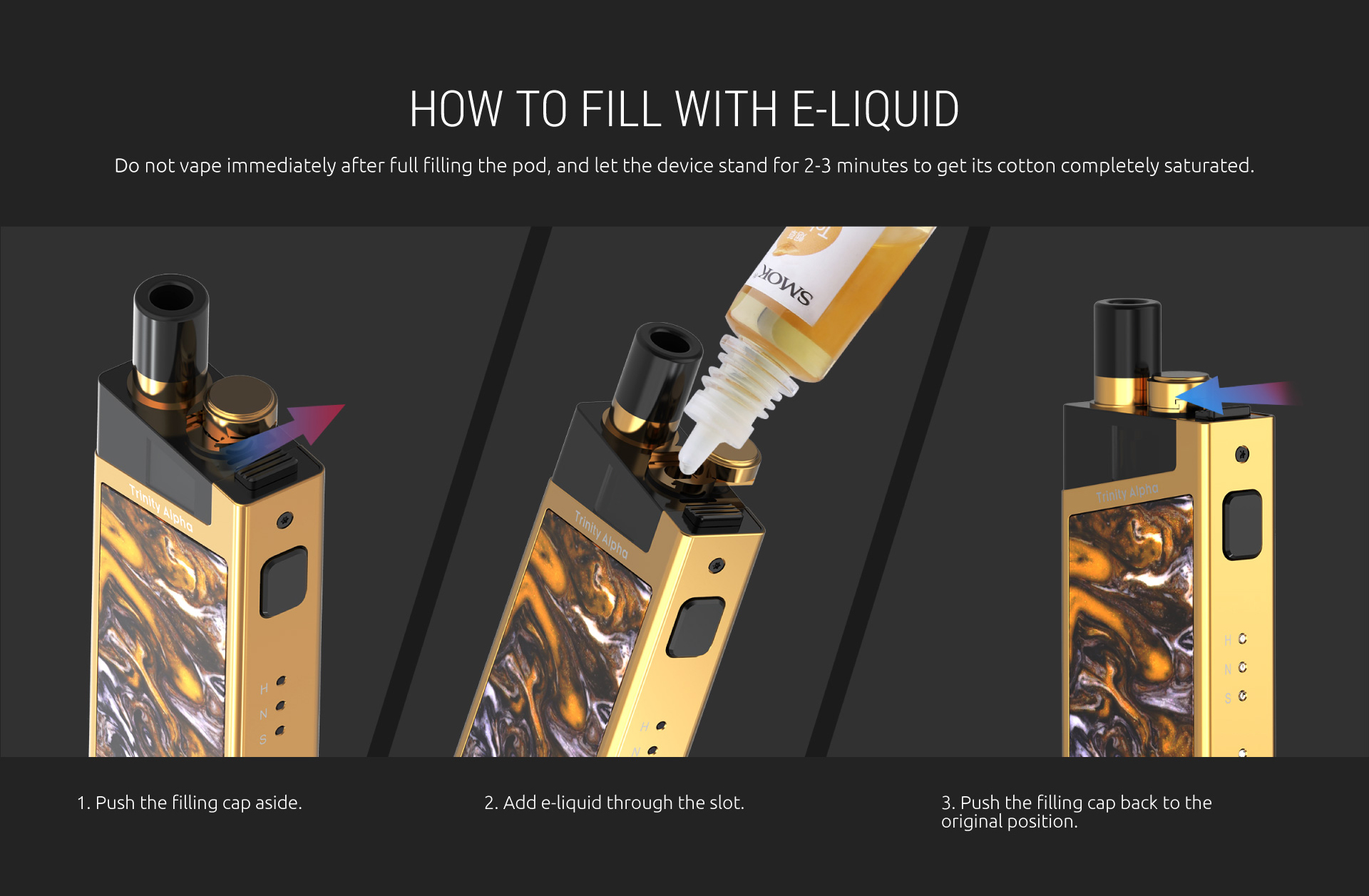 THREE MODES FOR BETTER VAPING PLEASURE
The power range of Trinity Alpha is between 6 watts and 30 watts, and it has three modes to satisfy different vaping demands — S(Soft)/N(Norm)/H(Hard). You can switch to your desired power output mode by pressing the Mode Button, and meanwhile, the corresponding LED light will be on.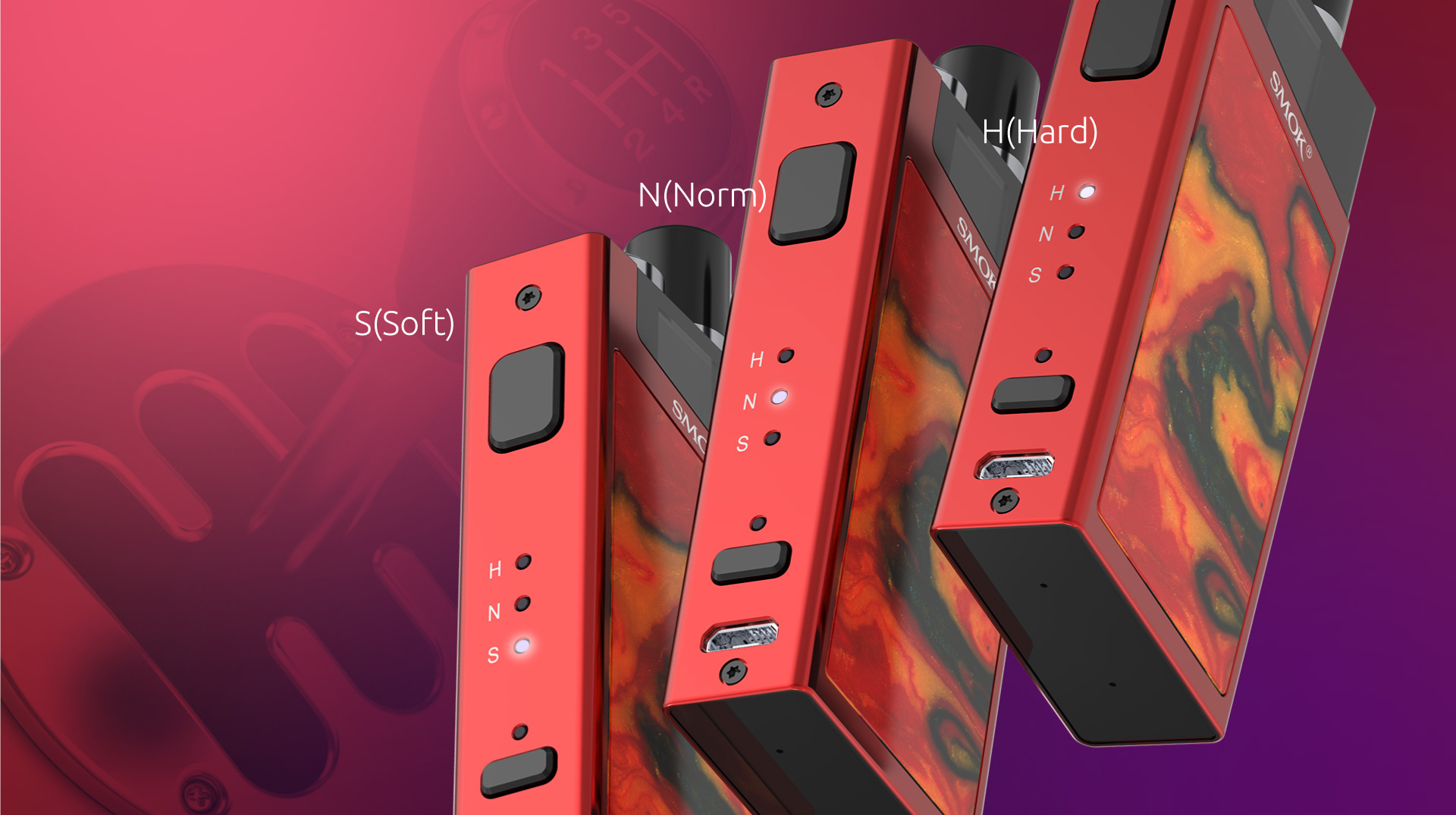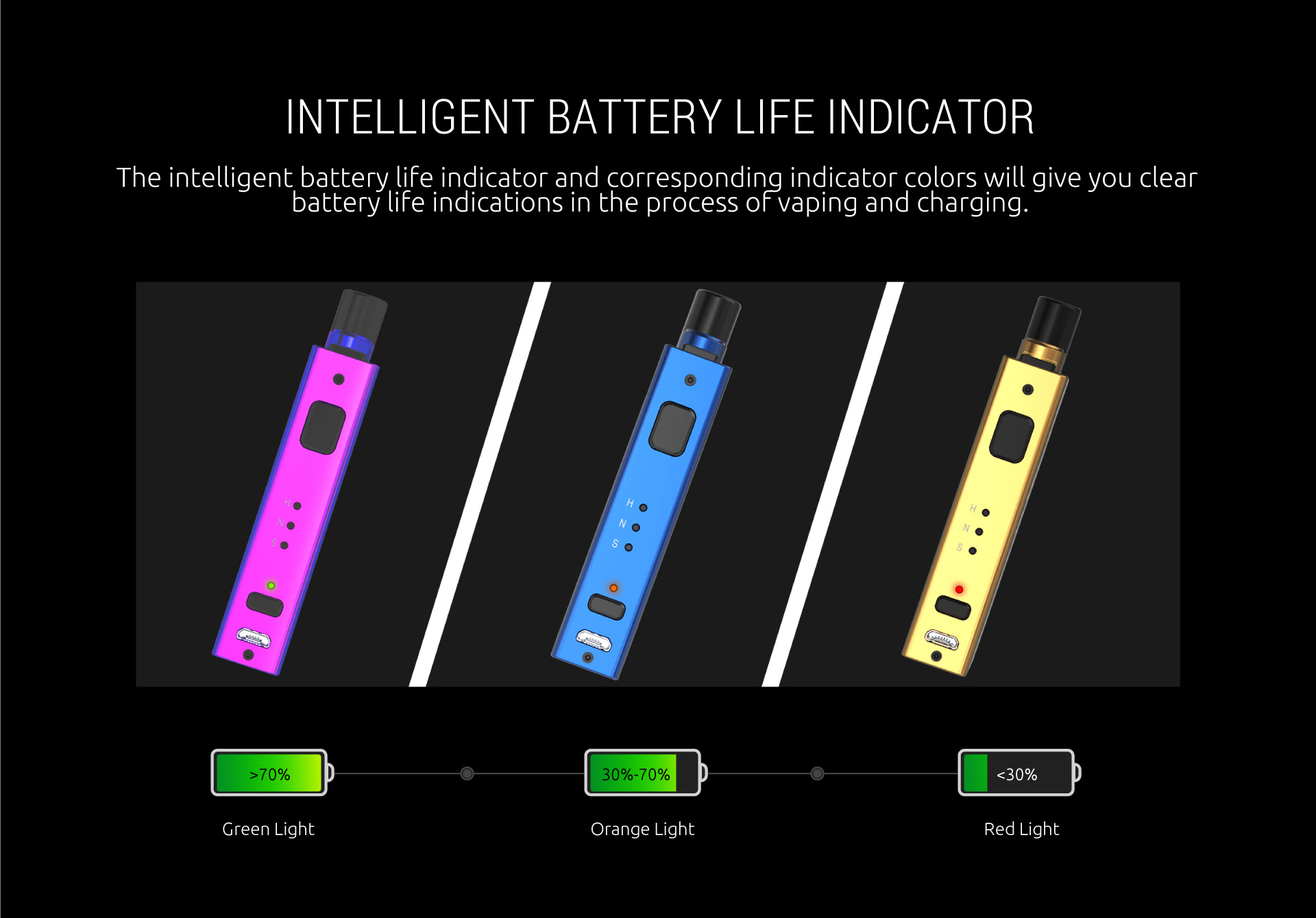 UNIQUE LOCK BUTTON FOR POD FIXATION
Different from the common method of pod fixation of the magnetic type, Trinity Alpha pod adopts a
lock button to fix the pod for the sake of security. So you can easily achieve the pod detachment by pushing this lock button.
When attaching the pod, you need to double check whether the pod is attached in place
(proper attachment: press down the pod with a crispy click sound), for loose attachment will cause pod to fall down.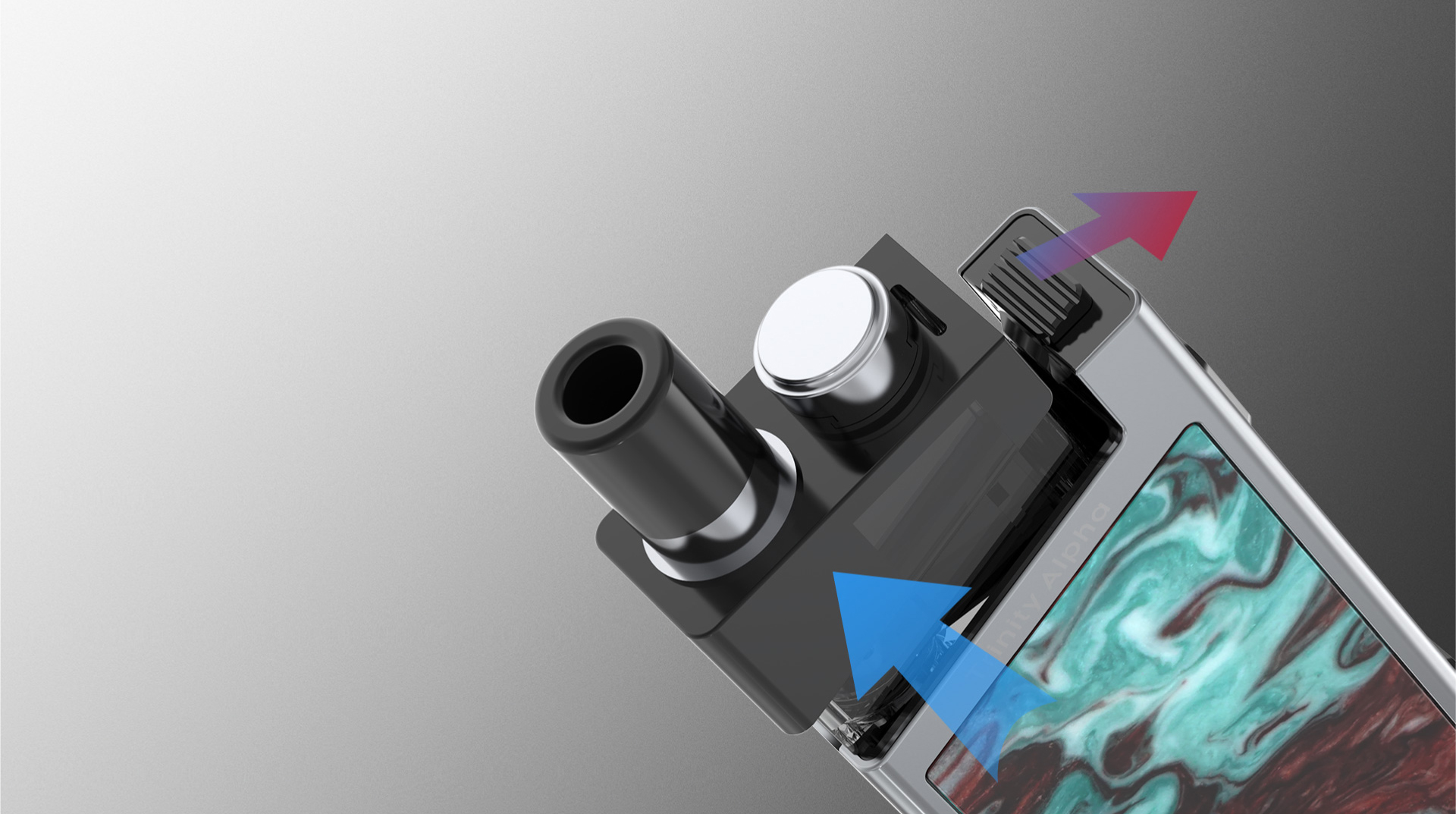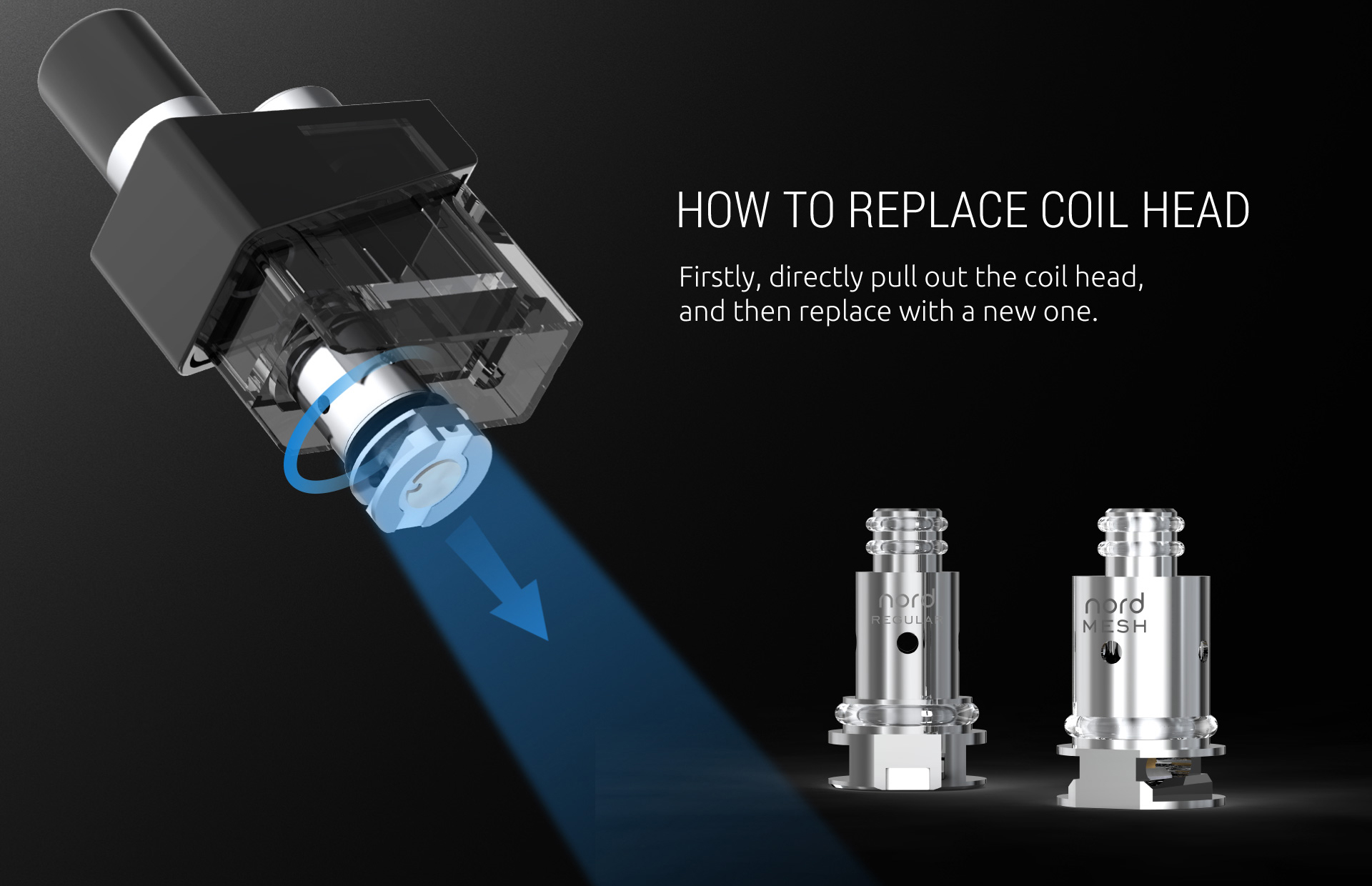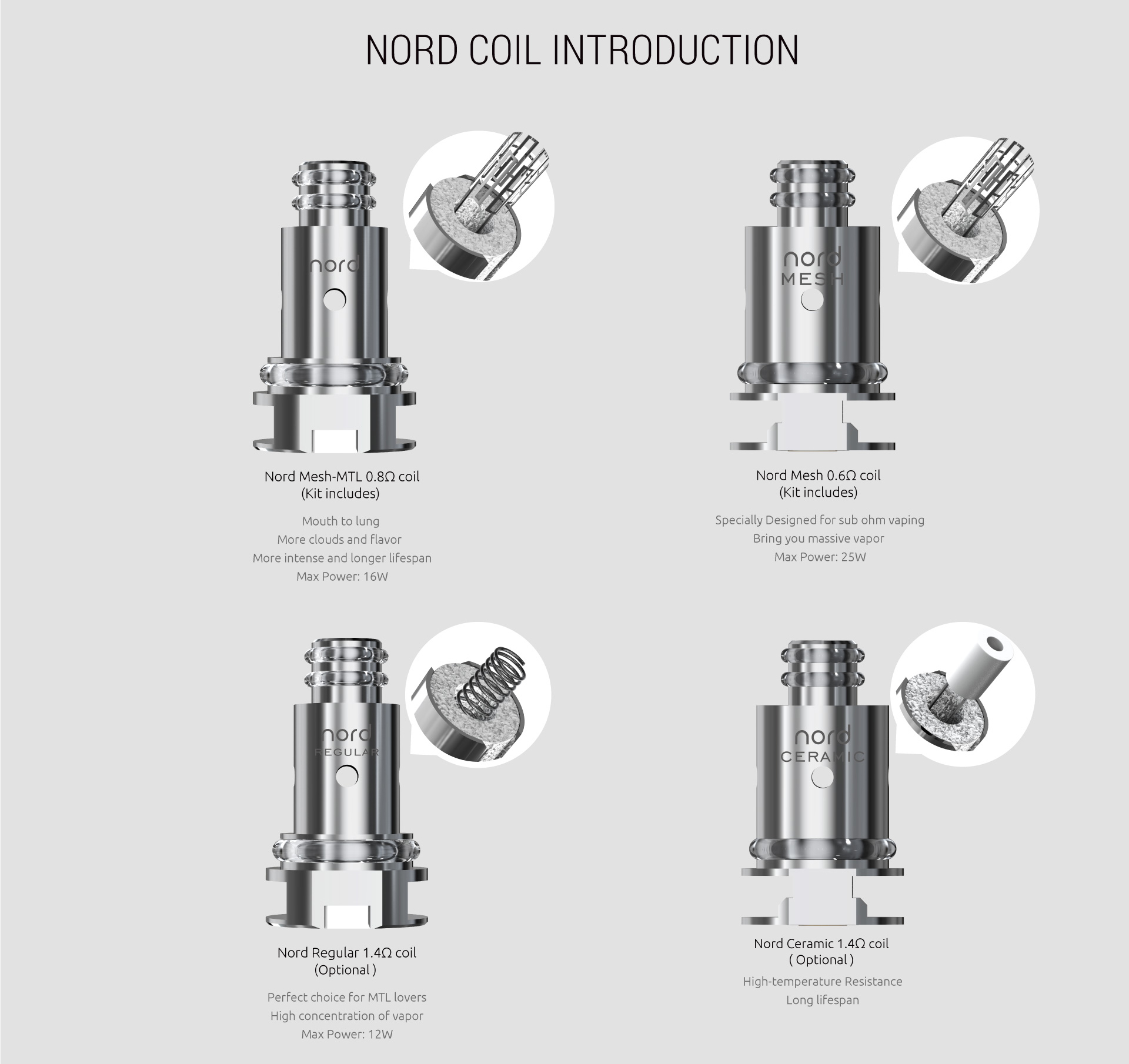 TWO AIRFLOW CHANNELS
There are two airflow channels to help bring more air in and produce huge vapor.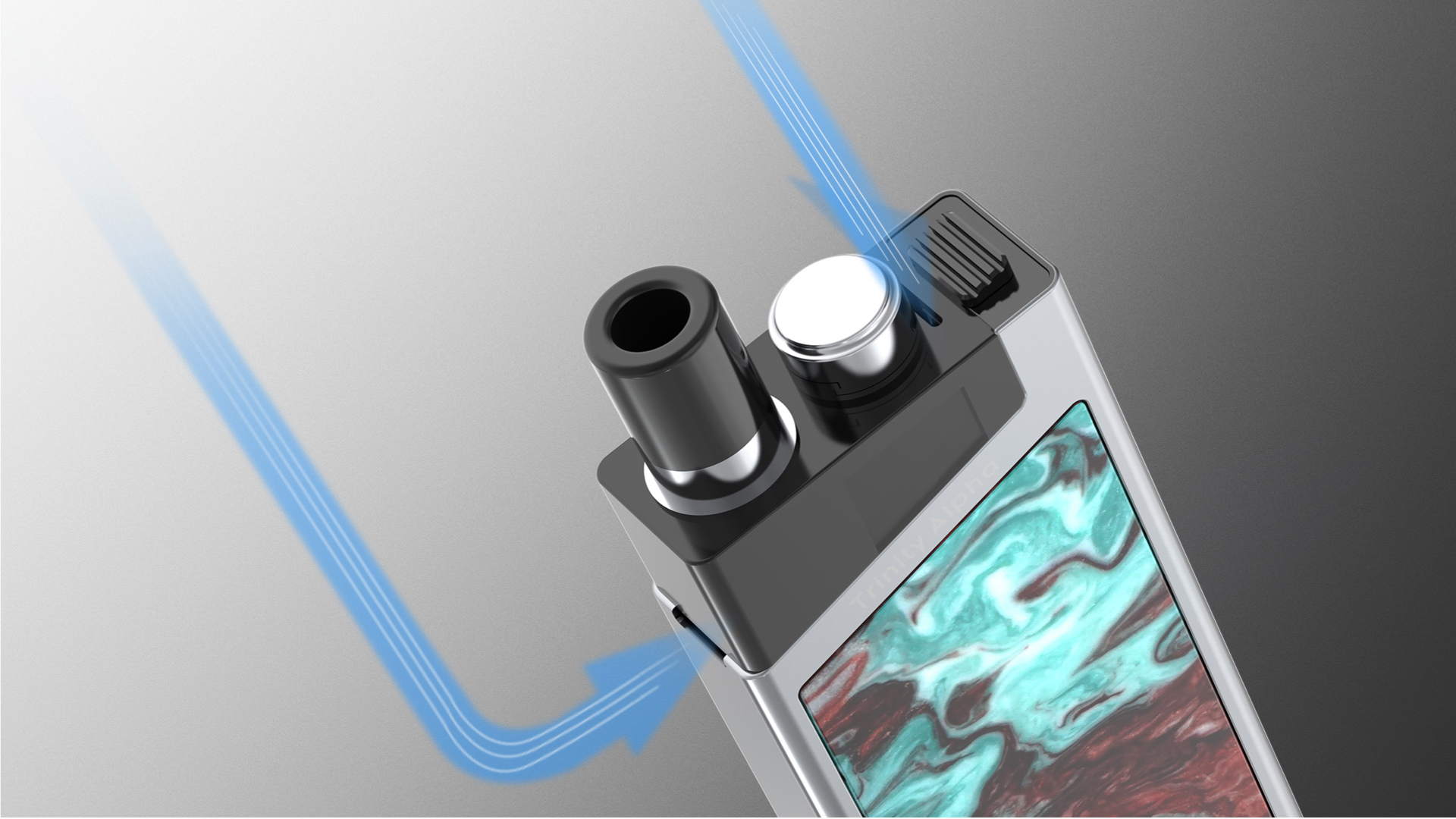 MULTIPLE PROTECTIONS
Trinity Alpha provides multiple protections to avoid potential risks.
Intelligent Atomizer Recognition